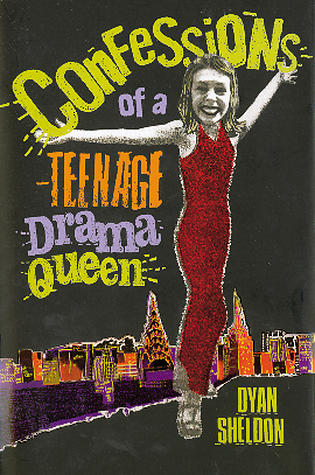 Click on the book to read Amazon reviews

Also available from ListeningLibrary
Sheldon, Dyan.

CONFESSIONS OF A TEENAGE DRAMA QUEEN

Candlewick Press, 1999.

IL YA

ISBN 076360822X

(2 booktalks)
Booktalk #1
Mary Elizabeth Cep would rather be called Lola. And that's the name she'll use when she is a famous actress someday. But for now, her life revolves fitting in at a new high school and trying to make friend. Her mother got this wild idea that it would be better for the kids if they moved away from New York City and took up residence in a smaller town. So here she is at Deadwood High in New Jersey. She does find one friend but then there's Carla Santini who seems to be out to get Mary for some imagined transgression. And then the unthinkable happens. Their favorite rock group announces that they are breaking up. Mary just must go to the concert and the party afterward. She doesn't have tickets but that won't stop her. After all, Carla Santini does.
Booktalk #2
Mary Elizabeth Cep, who is convinced that her true name is 'Lola, is destined for the spotlight. When her mother moves the family from the "Big Apple" to ­ tell, me it isn't true — Dellwood, the suburbs, Lola feels it is her mission to rescue her unoriginal classmates from the utter boredom they are living in.
Lola finds a best friend in Ella, a leading role in the school play, and everything is going according to plan . . . except for the evil Carla Santini, who has her own ideas about suburban high school society. Having been the queen bee for as long as anyone can remember, Carla is not willing to hand over her crown willingly, and a battle royale commences.
Lola learns a great deal about herself, her friends, and her family while creatively making her way through several tragedies, a trek through New York City, and a hunger strike. Read Confessions of a Teenage Drama Queen to find out if Lola manages to liven up Dellwood to her satisfaction, and if Dellwood survives… (Laura Blevins, laura_at_usc@yahoo.com, University of South Carolina-master's candidate)