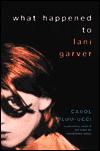 Click on the book to read Amazon reviews
Plum-Ucci, Carol.

WHAT HAPPENED TO LANI GARVER?

San Diego, Harcourt, 2002.

IL YA

ISBN 0152168133

(2 booktalks)
Booktalk #1
Clare is living a pretty good life. She's a high school cheerleader, hangs out with the popular crowd, has a great looking boyfriend. Things couldn't be better. At least the junior high years are behind her. You see, she was diagnosed with leukemia when she was in junior high. She suffered through the chemo and radiation, the hair loss, the total loss of energy. But she survived and she is now in remission. No one ever talks about it now. They like to pretend it never happened. Clare's mother started drinking too much when Clare was sick and hasn't stopped. Clare's friends certainly never bring it up either. Life is going great. Until Lani Garver starts school. Clare's friends are very curious about Lani. You can't tell by looking whether Lani is a girl or boy. Egged on by friends, Clare gets up the courage to ask. All Lani says is "not a girl". What starts out as an awkward meeting turns into a friendship that Clare can't explain. Clare confides in Lani that she thinks her leukemia is coming back. She tells him things that she has never told others. Why is he so easy to talk to? And why do the kids at school take such a dislike to him? Is it because he questions their reality? As Clare and Lani get closer, Clare feels her neat little version of reality crumbling. Can someone as different as Lani survive in a small town where different equals bad?
Booktalk #2
Ever heard of floating angels? More importantly, do you believe in them? It was in Carol Plum-Ucci's book that the topic was first introduced to me. Was Lani Garver a floating angel? This is one of those questions that just can't be answered, and is strictly a matter of opinion. He's different, sure. He didn't fit the profile of a Hackett Islander, he was different. He helped 16 year-old Claire to find her true self, and to never put people in boxes. When she thought her leukemia might be coming back to haunt her, he helped her find a free clinic to get tested. When he found out about her eating problem, he found a therapist for her, who also in turn helped her to realize that the bloody lyrics she wrote to play on her guitar weren't something to be ashamed of. Claire's life was once again beginning to pick up, but simultaneously Lani's started to get worse. We saw him picked on and kidnapped, and worst of all, we watched his life end.
The question you are left with: Did his life really end, or did he take his work as a floating angel elsewhere, to help someone new.