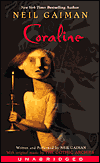 Click on the book to read Amazon reviews
Gaiman, Neil

CORALINE

New York : HarperCollins, 2002

IL YA

ISBN 0060504544

(3 booktalks)
Booktalk #1
Coraline is bored. Her parents are working from home now but that means they have little time to spend with her. The have recently moved into a new home so Coraline goes exploring. They actually have purchased one apartment in a large house so Coraline not only explores the house but also gets to meet the neighbors. In one apartment live a pair of elderly sisters. They used to be actresses and are on the eccentric side. Another apartment is owned by a strange old man who tells Coraline that he is training mice to dance. Coraline has her doubts about this. No one has ever seen the mice. The last apartment is empty. Mother says they are trying to find someone to live there. There is a door that connects Coraline's apartment with the empty apartment. When they open the door, they find a brick wall. But is it really a brick wall? If so, how did it open from the other side one night? And where are the voices coming from? When Coraline is alone one afternoon, she takes the key and opens the door. No longer is there a brick wall. The door opens on a large apartment just like their's. As a matter of fact, Coraline's mother is making dinner in the other apartment. At least it looks like Coraline's mother until she turns around.
Booktalk #2
In the book Coraline by Neil Gaiman, the title character loves to explore and go on adventures.
Coraline just moved in to a new flat and theres a suspicious brick wall behind a door leading to another flat. On one rainy day coralline wants to explore and goes and opens the door but the brick wall is gone, she discovers that she has another family. Find out what happens if you read this book.
In this adventurous spooky book, you will be taken on an exiting series of journeys through your mind that will "make your head spin".
This is defiantly a book I would recommend to people who like adventurous books, because it is full of "mind shocking stories". (Rachel T., K-12 student)

Booktalk #3

Do you like to read scary books? If so, you should read Coraline by Neil Gaiman. This book has a great mix between scary and adventurous. Coraline is a young girl that moves into an apartment with her mom and dad who are constantly working not having much time to spend with Coraline. One morning Coraline was curios to explore the new area, and wanted to find out who lived in the other three apartments connected to hers. While she was exploring, she found out that a man who lived with rats lived above her. In the apartment on one side of hers, she met two ladies that claim they used to be actresses, but the apartment on the other side seemed to be empty. Later that day, Coraline explored her own house, and found a small door which led to a dark hallway. Curious Coraline crawled through the hallway which led to the apartment that was supposed to be empty, but it wasn't. The apartment looked identical to her apartment. To find out if she was only back in her apartment or if there was someone else living in the other apartment, read Coraline by Neil Gaiman. (Lacey McMillen, la-mcmillen@wiu.edu, college student)