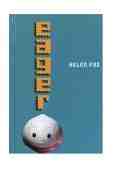 Click on the book to read Amazon reviews

Fox, Helen.

EAGER

New York : Wendy Lamb, 2004.

IL 5-8, RL 6.7

ISBN 0385909039

(2 booktalks)
Booktalk #1
Life at the end of the 21st century is ruled by the Technocrats and robots take care of every human need. But at the Bell household, they are having a problem with their butler robot Grumps. He's getting old and his timer is broken. It can't be fixed so Grumps makes lots of mistakes like serving dinner at breakfast time. The Bells love Grumps even though he is just a robot and don't want to throw him out in favor of a new model. But then they find EGR3. He's been programmed by a friend of Mr. Bell's to be just about human. EGR3 won't replace Grumps. The Bells plan on keeping both the robots. Will this work out? Is there a problem with EGR3's programming? Why doesn't he act like the other robots?
Booktalk #2
Imagine a world run by robots. Imagine one where robots do all the labor for your family, including the cooking, the housecleaning, and taking care of the children. You walk to school, and the Robot comes with you to make sure you cross the street safely. Other, more sophisticated robots, joke with you and even attend class and help you solve mathematical problems. In this century, robots are pretty common as a Gobetween, nicknamed the Gobey, which lets you discuss problems face-to-face with Socrates from 420 B.C. Greece. There are hoverbuses, talking houses and tea kettles, and pods that wiz by on the street. In this world there is no such thing as petrol; that is, gas for your car, because there is so little supply.
Eager is a different kind of robot. It's almost as if he can think and feel. Not quite what the family expected, nor what the children, Fleur and Gavin, wanted in particular. The new BCD4 robots are quite something, very sophisticated, but the Bell's cannot afford one. So, the Bell's get Eager as an assistant for Grumps, their long-time family robot with a broken timer, who couldn't remember whether it was morning or evening, and what food to serve when.
But although Fleur and Gavin wanted a BCD4, they noticed something peculiar about the robot at the Learning Center. Fleur's best friend Marcia owned one—it was called Boadicea. But there was something odd if not scary about her. Gavin thought he saw Boadicea almost take a swing at Marcia, but he couldn't be quite sure after it happened. What is something worth investigating? Gavin wondered.
Follow Gavin and Fleur as they uncover their suspicions about the new BCD4s launched in their city. What is the mission of the BCD4s? Who is responsible for creating them? And, are they truly scary as Gavin and Fleur somehow believe? (L.M.)